Lonneke Gordijn, one of the co-founders of "Studio Drift", will come to Design Society to share with the public the stories behind their wonderful works.
Over more than a decade of their existence, Studio Drift's work in product and furniture design has evolved into increasingly larger, often site-specific and moving installations which they have realized all over the world. The works occupy a wholly unique place between disciplines such as tech art, performance, and biodesign.
Studio Drift addresses such timeless themes as the relationship between individual and collective and (the illusion of) freedom. Concurrently, their work invites us to reflect on the impact of technology on our society.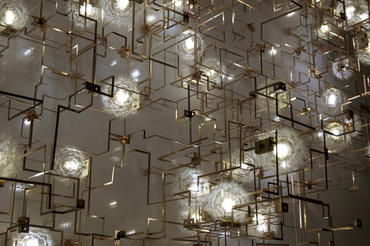 The sculpture consists of three-dimensional bronze electrical circuits connected to light emitting dandelions. It contains real dandelion seeds, that were picked by hand, and glued seed by seed to LED lights. This labour-intensive process is a clear statement against mass production and throwaway culture.
Studio Drift proposes a vision of that future in her own signature aesthetics; a distinct mix between high-tech and poetic imagery in which light functions as a symbolic and emotional ingredient. Fragile Future III is about conveying emotion and at the same time refers to the fact that light lies at the basis of all life.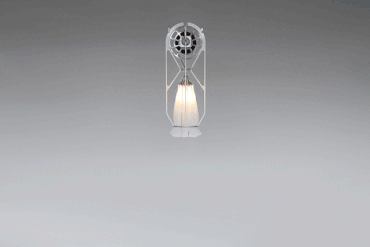 Most man-made objects have a static form, while everything natural in this world including people, are subject to constant metamorphosis and adaptation to their surroundings. Shylight is the result of the question how an inanimate object can mimic those changes that express character and emotions?
After a research period of five years, Studio Drift found the final form to express their idea. Shylight has become an object that feels alive because of unpredictable, natural-looking movements: it descends to blossom in all its glorious beauty, to subsequently close and retreat upward again.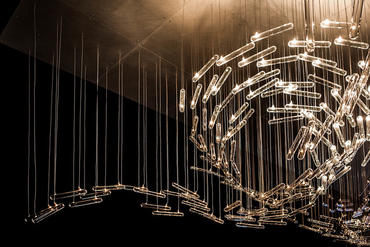 While birds are the ultimate symbol of freedom, in a flock they move as one single entity creating mesmerizing patterns. This flock behaviour is an example of 'self-organization', meaning that no single bird leads the flight. Amazingly enough, each individual senses the speed and the direction of the group.
The work questions the delicate balance between the group and the individual. Just like birds, people find safety in a group, while at the same time they are forced to act according to a set of rules, on which society functions.
1. This event is free. But for confirmation, each place will be charged 20 rmb. This fee will be refunded after participating the event or cancelling on time through your original payment method.
2. Registration time: from today to Jul 21st 2018, 20:00. Limited places. Registration closes when full. Cancelling beyond this time will not be refunded the confirmation fee.
3. Any question, please contact: 0755-21612685