Driven by the power of science and technology, contemporary artists who work at the intersection between science and art, transform the invisible natural phenomena such as the geomagnetism, time and eye movements, into a tangible and sensible presentation. Their practice spawned the new inspirations and perceptions that can help us better understand the time and space that we are in.
Moderated by Gu Ling, the head of communications of Design Society, this forum invites artists Nelo Akamatsu and Akinori Goto; Mariano Sardón, professor and chair of the Electronic Art Degree at the Universidad Nacional de Tres de Febrero to demonstrate their unique practices. They all take a philosophical vision and human empathy as the starting points of design, applying professional skills and material innovation, utilizing the co-creation of humanities and technology, and drawing a pioneering spirit for the future of design.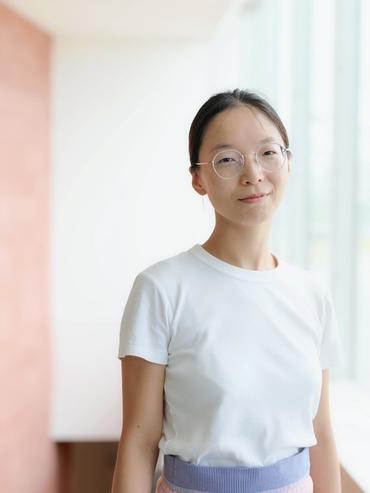 Gu Ling is Head of Communications for Design Society. She is also a proactive writer, translator, and editor. She has been contributing to multiple domestic and international art publications. She translated Curatorial Challenges - Correspondence between Hou Hanru and Hans Ulrich Obrist (2013) among others. She was the editor for A Man, A Village, A Museum (2015) and Semantic Satiation, a special issue of Art World magazine (2017). She was the Marketing and Communication Director of Rockbound Art Museum; and Head of Digital Arts, China of British Council.
Nelo Akamatsu creates artworks across multimedia including installations with electric devices, event installations, video installations, sculptures, paintings and photos. Since his sound installation titled "CHIJIKINKUTSU" won the Golden Nica prize (Grand Prix) in Digital Music & Sound Art category of Prix Ars Electronica in 2015, his artworks have been widely introduced in the exhibitions and art festivals worldwide. In Japan, he had solo exhibitions at Mizuma Art Gallery.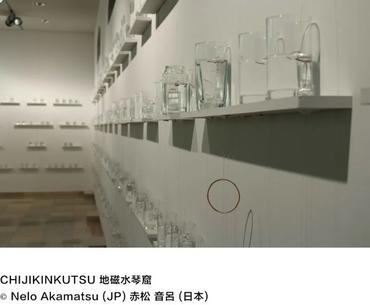 "CHIJIKINKUTSU" is a coinage combining two Japanese words: Suikinkutsu and Chijiki. Suikinkutsu is a sound installation for Japanese traditional gardens. Chijiki means geomagnetism: terrestrial magnetic properties that always exist on earth. "CHIJIKINKUTSU" captures magnetic fields of Chijiki, and expands the subtle sounds of Suikinkutsu in the context of the Japanese perspective on nature.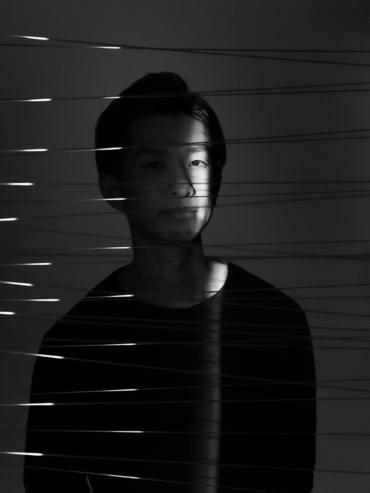 Akinori Goto, born in 1984, is an artist. Goto has been revisiting old existing techniques and media, with a focus on phenomena that emerge out of their combination with present-day technologies, and on the relationship between physical and digital. One of his representative artwork is the "toki-" series of time sculptures. His works are frequently exhibited in Japanese and international museums and art festivals. He is also a senior lecturer at Musashino Art University.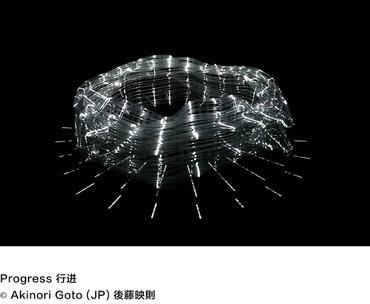 Sculpture of Time is several works developed from the toki– series. Their creation started with the question of what it means to move. On one occasion Akinori Goto was impressed by the obvious facts that movement does not exist if time is standing still and that movement is possible due to the flow of time. In other words, time and movement are closely connected. This led the artist to the conclusion that the secrets of movement might become visible by pursuing time.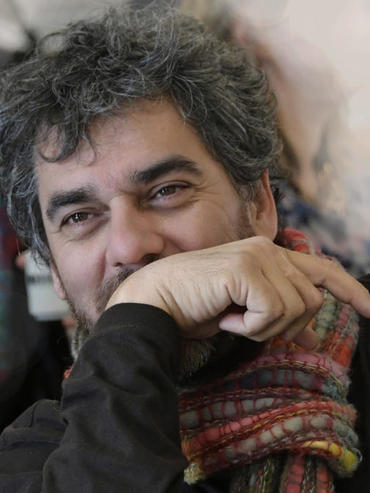 Mariano Sardón studied Physical Sciences in the University of Buenos Aires. He is professor and chair of the Electronic Art Degree at the Universidad Nacional de Tres de Febrero in Buenos Aires, Argentina. He is mentor for European ARTifical Intelligence Lab, Muntref Art and Science Center and Ars Electronica Center. He obtained the ARCO/BEEP prize for Electronic Arts 2019 at ARCO gallery Fair, Madrid. He obtained the "Konex Prize" in Visual Art Category 2012 given by Konex Foundation, Buenos Aires. He obtained the "Experimentation prize in Non-traditional supports and video 2008" given by Argentinean Association of Art Critics.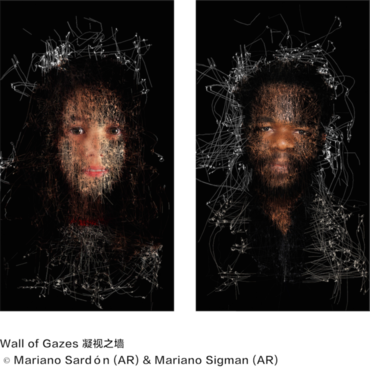 The Wall of Gazes consists of several screens in which visitors can see how portrait images are revealed by means of the movements of the eyes of many persons simultaneously. Such gazes were captured by an eyetracker device with the participation of around 150 people. Participants sat in front of a portrait image displayed in front of them, and the eyetracker device recorded the movement of their eyes. The traces of gazes of the people were stored and an HD video was generated with all those gazes together.
The Wall of Gazes aims to engage people with those parts of the face that are really seen and those parts that remain "unseen" while attention is focused elsewhere on the portrait.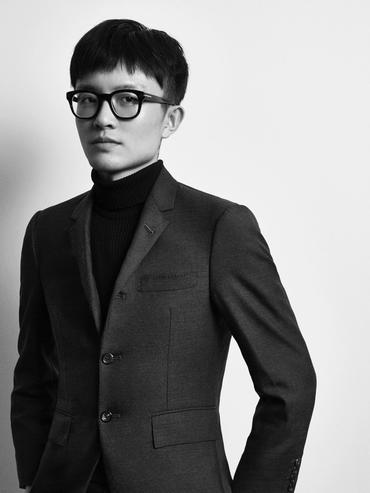 Jiacheng Guo, Editor-in-Chief of Wallpaper* (China)