Although Beethoven never actually abandoned the Classical harmonic language, which he had fully mastered in a fairly young age, his middle period works gradually moved away from Classical spirits and become increasingly notable for its expression of heroism and struggle. The two concerts demonstrate a comparison of his early and middle period works, including the the rarely performed Piano Trio adaptation for the Symphony No.2 in D major, to see how he progressed from work to work with revolutionary brilliance.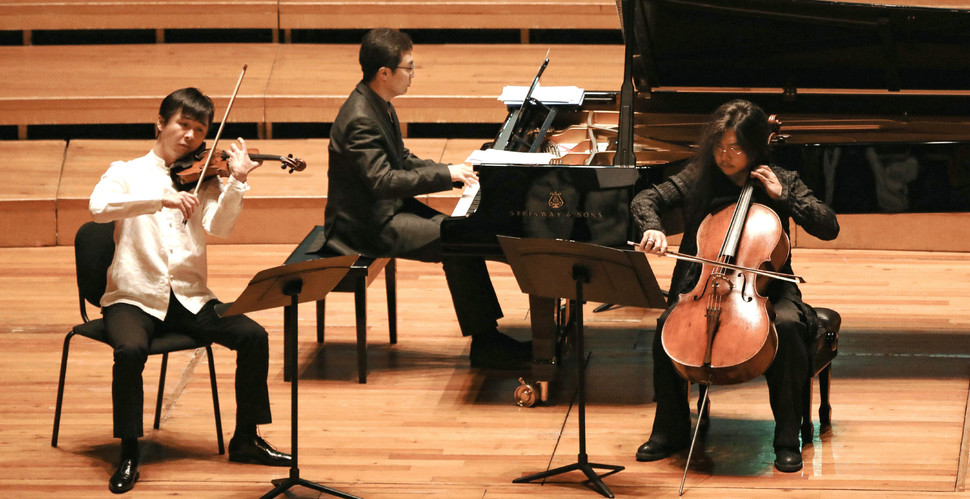 DNA Trio
The DNA Trio is comprising of Chinese pianist Jialin Zhang, violinist Jingjie Zhang and cellist Zhao Song. The artists started their friendship for over two decades and have been playing together since 2005 around China. In 2008 the trio released the record "Beethoven, Mozart & Haydn Piano Trios" by NCPA CLASSICS. When not playing together, the three are also established musician and educator as individuals.
Piano: Jialin Zhang
Head of Vocal Coaching and Collaborative Piano at the Central Conservatory of Music. He has worked with many of the world's top Chinese vocal artists and has recorded more than 20 CDs.
Violin: Jingye Zhang
An excellent Chinese violinist and chamber music performer, teacher of the Central Conservation of Music, and concertmaster of the Beijing Symphony Orchestra.
Cello: Aiys Song
Cello soloist, chamber music performer and experimental musician who also engaged in multiple art fields including theater, dance, visual design, film, etc.
PROGRAM
10/16 Fri. 20:00
BEETHOVEN: Symphony No. 2 in D Major (Arranged for Piano Trio by Beethoven)
-Intermission-
BEETHOVEN: Piano Trio No. 5 in D Major, Op. 70 No. 1, "Ghost"
10/17 Sat. 20:00
BEETHOVEN: Piano Trio in C Minor, Op. 1, No. 3
-Intermission-
BEETHOVEN: Piano Trio in B-Flat Major, Op. 97 "Archduke"
Terms & Conditions
* All discount offers are not to be applied together with each other;
* For official website booking, seats will be allocated to best location available according to purchase time;
* Children under 1.2m are not admitted to the concerts;
* All purchases tickets are non-refundable and not able to be exchanged;
* Mountain View Theater reserves the right of final interpretation of all ticket subscriptions and discount.
Ticket Price
Premium Seats ¥480 Exclusive Seats ¥380
* 10% off for all Design Society Members