Nanguan is one of the oldest musical styles in China that remains. The instruments of Nanguan were quite similar to those used in ancient Chinese music which most of them are no longer played or changed today.
Wang Xinxin started learning Nanguan at the age of four. Since then, she has mastered various types of this Chinese ancient music and is particularly famous for her singing, thus becoming a rare well-round talent in the Nanguan music. She establishes the Xinxin Nanguan Ensemble, dedicated to promoting the traditional music by upholding the principle of "the most ancient is also the most modern". Along with her ensemble, Wang is known in the west who frequently invited and collaborated with traditional and contemporary musicians.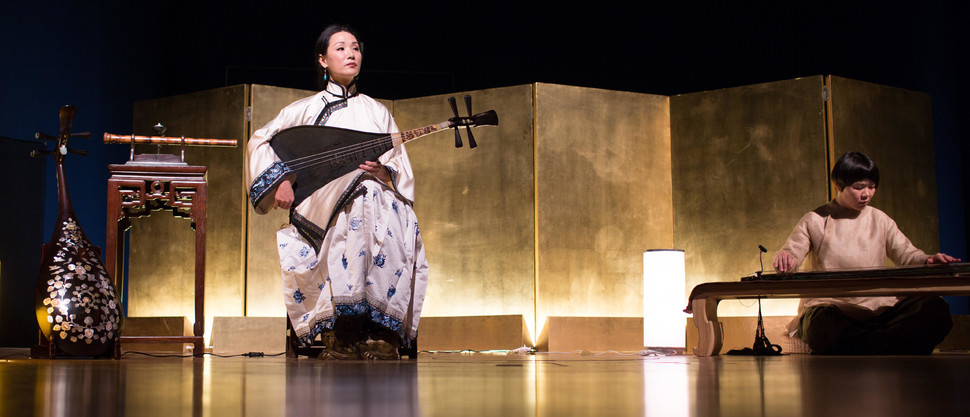 TICKET PRICE & SUBSCRIPTION
Premium Seats:¥480 / Exclusive Seats:¥380
- 10% off for Design Society Members;
- Best available seats will be allocated automatically according to ordering time.
* Recommended children: 120cm+ children
* All purchases tickets are non-refundable and not able to be exchanged.
* Design Society holds the right to interpret the terms & conditions to subscription and discounts.
Beauty in Asian Instruments
The sounds of traditional Asian instruments tell a unique story of ritual and spiritual beauty of acient memories. This series is a collection of performances that illustrate the tonal and visual charms of the Asian music. Welcome to this melodic world, and depart with a sensation of experiencing the essence of various cultures.
PERFORMANCE

An Event with WANG XinXin - As Blossoms Fly and Fade
9.21 (Sat) 20:00, 9.22 (Sun) 15:00 Mountain View Theater, Shenzhen
9.25 (Wed) 19:30 1933, Shanghai
9.27 (Fri) 19:30 Jiangsu Centre for the Performing Arts, Nanjing
10.13 (Sun) 19:30 Tianjin grand theatre, Tianjin

Silence in the Woods - Singing Bowl Music by Tsang Man-Tung
10.26 (Sat) 20:00 Mountain View Theater, Shenzhen

Song2 by Wu Shuang & Shanghai Kunqu Opera Troupe
11.30 (Sat) 20:00, 12.01 (Sun) 15:00 Mountain View Theater, Shenzhen
DISTINGUISHED ASSEMBLY

Beyond the Notes: Guqin Music by Wang Duo
12.28 (Sat) 20:00, 12.29 (Sun) 20:00 Mountain View Theater, Shenzhen

Songs for Martial Heroes: Dongxiao Music by Tam Po-Shek
2020.1.11 (Sat) 20:00 ; 2020.1.12 (Sun) 20:00 Mountain View Theater, Shenzhen