In a time of mounting issues around public health, climate, value creation and ecological resilience, design once again can prove its value. Design Society from its inception has expressed its faith in the power of design to contribute, and be catalyst of positive change. Responding to the changing roles of cultural institutions, Design Society endeavors to form institutional collaboration and consensus, exploring more flexible and effective ways to boost our cultural relevance.
As an innovative cultural platform in China, characterized by its vibrant international collaborations, Design Society connects creative initiatives from different corners of the world. Together with the V&A, London and Ars Electronica, Linz among other partners, Design Society launches 2020 Go (online)! Design Society (Go!DS) to form a virtual neighborhood and network where people meet and exchange ideas, skills and knowledge. Go!DS will run from June through December in 2020, stirring energies from the design world and envisioning our future together. It also presents a new extended mode of operation of DS, proving its dynamic development.
With reflection of the ongoing exhibitions in its physical venue – Values of Design: China in the Making, 40 Years of Humanizing Technology – Art, Technology, Society: Ars Electronica in Shenzhen, and the upcoming Fashioned from Nature, Go!DS will focus on three leading threads: promoting the values of design, exploring new realms of technology and arts, and advocating sustainability in design and fashion.
Go!DS opens up a platform for more content partners to share dialogues on vibrant topics. A series of online programs will be organized with the following content partners: Neuni (China's first new material and design platform), BottleDream (a B Corp which promotes social innovation and sustainable lifestyle), Demo (a studio on pan-design publication/research, design consulting and design curation), ME College (a STEAM educational institution for kids) and MANA (a digital platform on art, design and technology synergy innovation).
We welcome thinkers and actors in the creative design sphere to join our society. No matter you work as design professional, academic, social worker, entrepreneur brand representative, or media, we invite you to help empower our Go!DS. You may write to us via info@designsociety.cn with proposals and ideas.
As an innovative cultural hub based in Shekou, Shenzhen, Design Society launched its brand in 2016 and opened its first flagship venue Sea World Culture and Arts Center and the V&A's first international space in 2017. In the past four years, Design Society has curated world-class design-themed exhibitions featuring representative practices from both domestic and international designers, research houses, academies and brands. Taking its name as its motto, Design Society has been summoning public engagement with creative thinking and making for the society through vigorous public programmes. Go!DS is one of our highlight programmes aiming to open up our resources to the wider community online.
Go!DS is initiated by Design Society in collaboration with the V&A and Ars Electronica.
Partners: Neuni, BottleDream, Demo, ME College, MANA, LxU
Duration: June 2020 - December 2020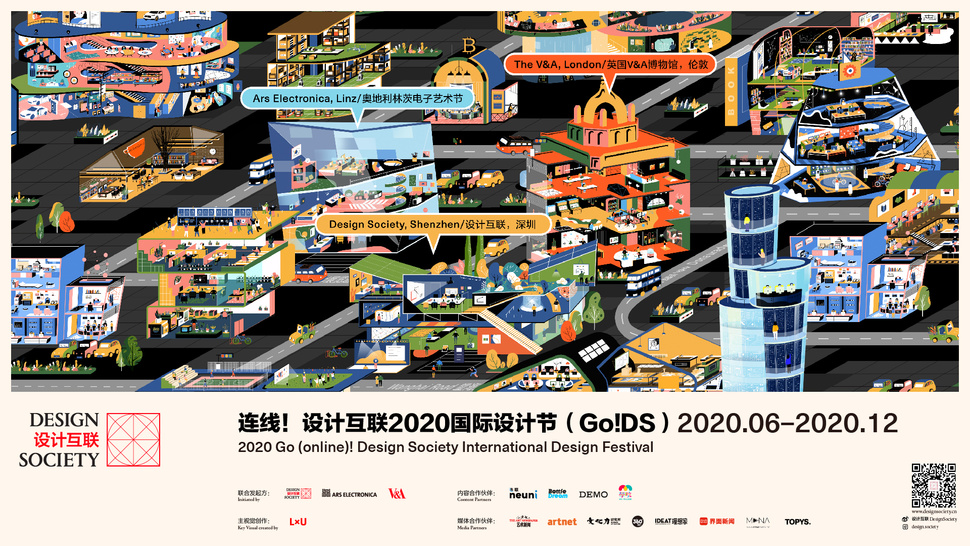 About Design Society
Design Society is an innovative cultural platform founded by China Merchants Shekou (CMSK), with the Victoria and Albert Museum (V&A) as its founding partner. It has already built an extensive network of partners, contributors and supporters from China and around the world, across academia, business, governmental affairs and education, as well as through collaborations with major museums, residential programmes and archival institutions. With the advice of industry experts, the growth of this network demonstrates the overlapping creative practices - closely bound to society and industry – vital to the sustainability of Design Society. An extensive membership programme offers exclusive industry opportunities and career acceleration activities, elevating Design Society as a leading resource on both a local and international scale. Design Society is an institution and a mission at once, encouraging audiences to make, create and connect with design.
About Victoria and Albert Museum (V&A)
The Victoria and Albert Museum, London (V&A) is the world's leading museum of art, design and performance with collections unrivalled in their scope and diversity, spanning 5000 years of human creativity. It was established in 1852 to make works of art available to all and to inspire British designers and manufacturers. Today, its purpose is to champion creative industry, inspire the next generation, and spark everyone's imagination.
www.vam.ac.uk
About Design Society and the V&A
The V&A is the founding partner of the not-for-profit Design Society Foundation. This pioneering collaboration between CMSK and the V&A was the first of its kind between a Chinese partner and an international museum. The collaboration comprises the provision of professional advice and training, and the concept, development and design of a V&A Gallery devoted to international design.
About Ars Electronica
Art, technology, society. Since 1979, Ars Electronica has been seeking out connections and congruities, causes and effects where these areas intersect. Ars Electronica is a cultural, educational, and research institution in the city of Linz with many divisions: the Ars Electronica Festival, the Prix Ars Electronica, Ars Electronica Center, Ars Electronica EXPORT, Ars Electronica Futurelab and Ars Electronica Solutions. These divisions mutually inspire each other, forming a creative feedback loop that focuses on the issues of the future at the crossroads of art, technology and society. No other institution can match Ars Electronica's wide-ranging approach to techno-cultural phenomena.
ars.electronica.art