Caption
This modular Pavilion was inspired by the formation of a beetle shell, which reduces form to a minimum while maintaining geometric freedom. It was shown in the inaugural exhibition "Minding the Digital" of Design Society's Main Gallery. Such form was made possible through robotic fabrication. The pavilion is the practical outcome which enabled nature-inspired principles to be integrated into the design process by applying computational technology.
Artist
Achim Menges is the founding director of the Institute for Computational Design at Stuggart University. His interdisciplinary research projects have been exhibited internationally at venues such as the Victoria and Albert Museum as well as Vitra Museum.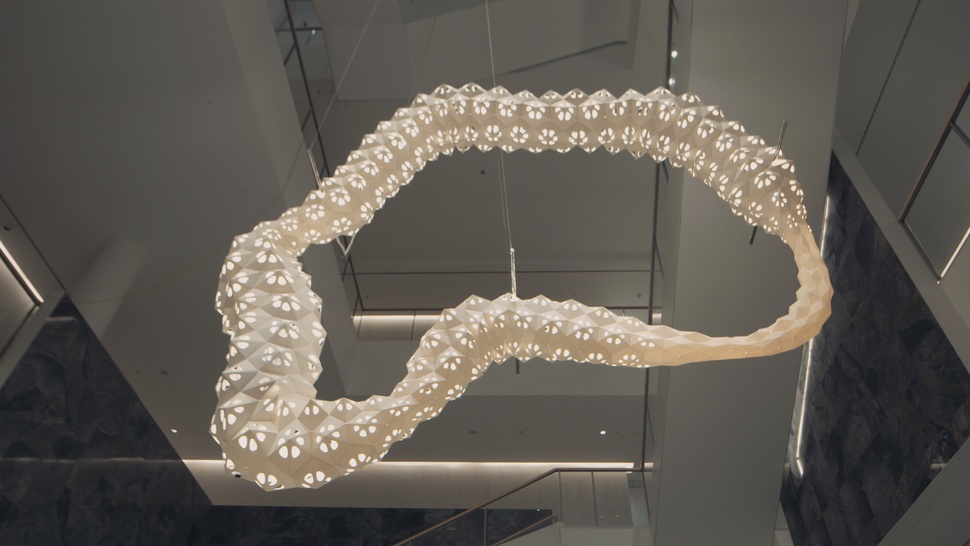 Caption
ON/Off is a paper installation which promotes an urban vision of a collaborative society. Its form is derived by taking abstract data from the Pearl River Delta andvisualisingit in tangibleshapes. This paper experiment showcases the power of digital tools to help design address urban issues and inspire collective reflection.
Artist
Stickyline is a design duoknown for creating large scale paper installations through 3D modelling and generative design. They have been collaborating in creative projects with Lane Crawford, Leica and Affordable Art Fair.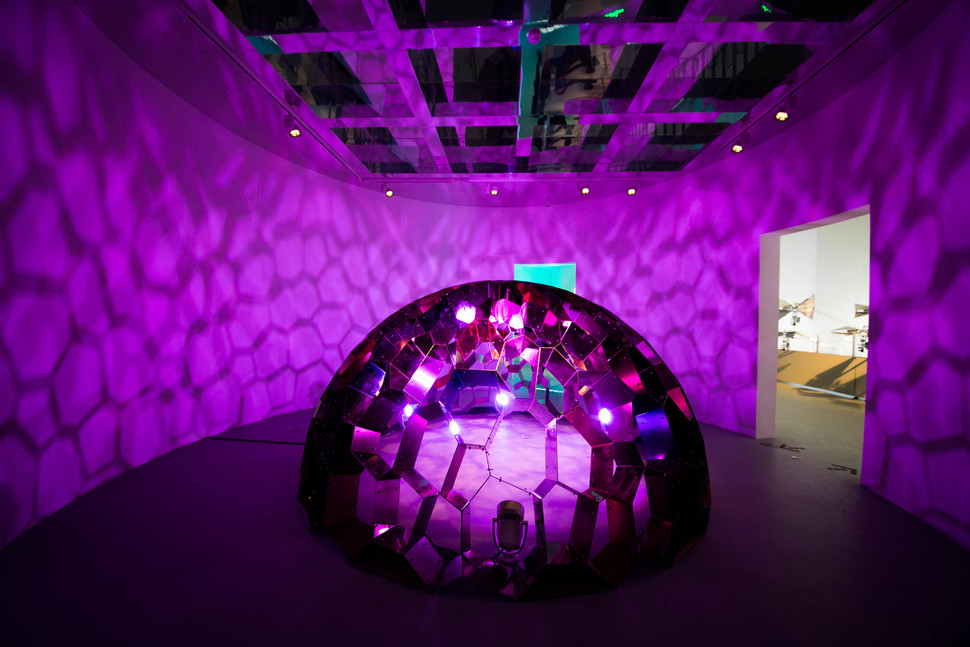 Caption
Kaleidome is a mirrored stainless steel structure composed of 242 laser-cut cellular units, it was shown in the inaugural exhibition "Minding the Digital" of Design Society's Main Gallery. Using generative software, units were formed and assembled into a semi-spherical surface. Parametric design such as this has been widely applied in architecture to achieve complex organic shapes.
Artist
LAAB is a multi-disciplinary architectural firm in Hong Kong, who was given the Good Design Award and HSBC Youth Business Award.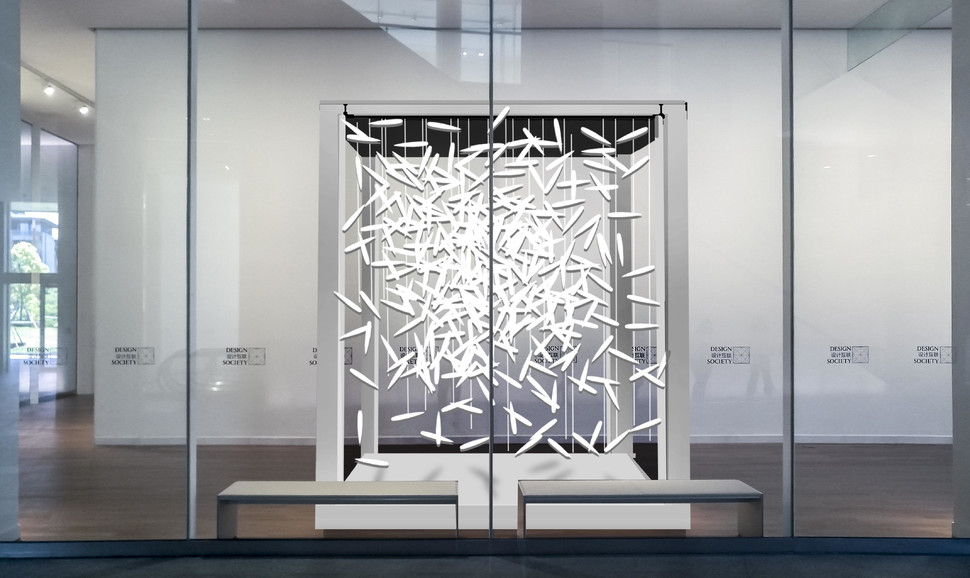 Caption
This piece of artwork is demonstrating the inner orientation of people. White leaf-shaped porcelains gather and disperse, and are placed in a transparent tetragonal container, which inhibits them from mixing with the outside or breathing. The free space instantaneously gets frozen, leaving people with perplexity and confusion.
Artist
Liu Jianhua (b.1962, Ji'an, China) is one of the best-known sculpture and installation artists in China, who makes good use of mix media. He has participated in major exhibitions, including the 57thVenice Biennale Arte "VIVA ARTE VIVA" in 2017. His works have been collected by institutions all across the globe including The Museum of Modern Art, New York and Tate Modern, London.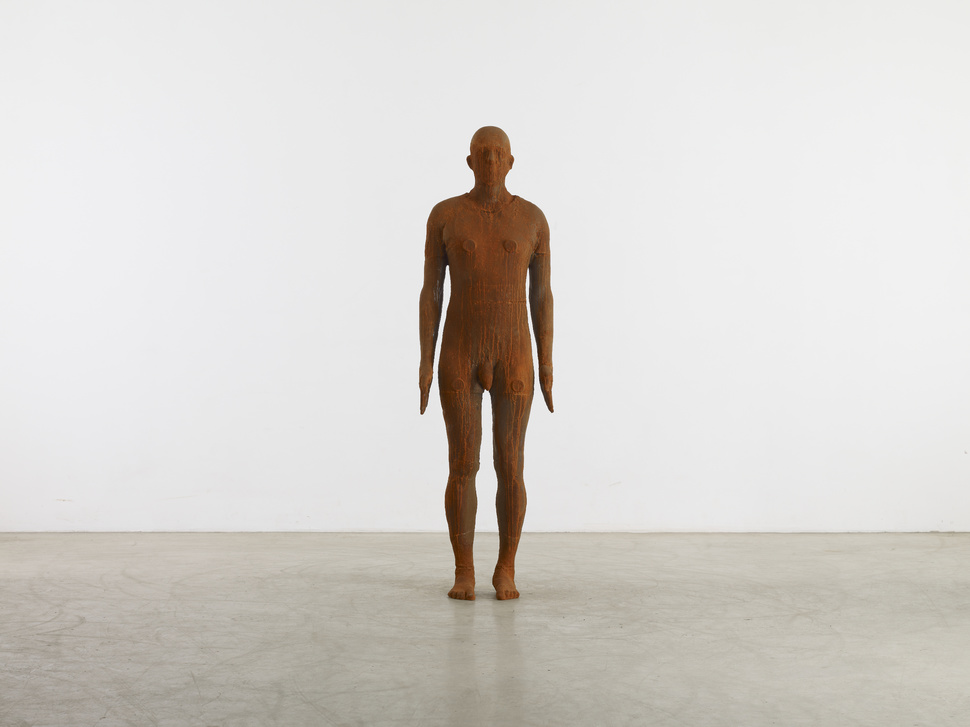 Caption
The relationship between human body and the environment is intimate and complicated. The bronze-casted figure embodies the artist's reflection on human's existence. He brings the perspective of viewers into consideration to discuss the concept "Horizon." Observing the environment in a vast space, one may find his or her body and the outer space merge into one, showing how human's existence matters to nature and ourselves.
Artist
Sir. Anthony Gormley, OBE, is a prestigious British sculptor, whose best-known works include the Angel of the North, Another Place, Event Horizon, etc. His works have been exhibited around the globe, including London, Hong Kong, and New York, receiving tremendous applause.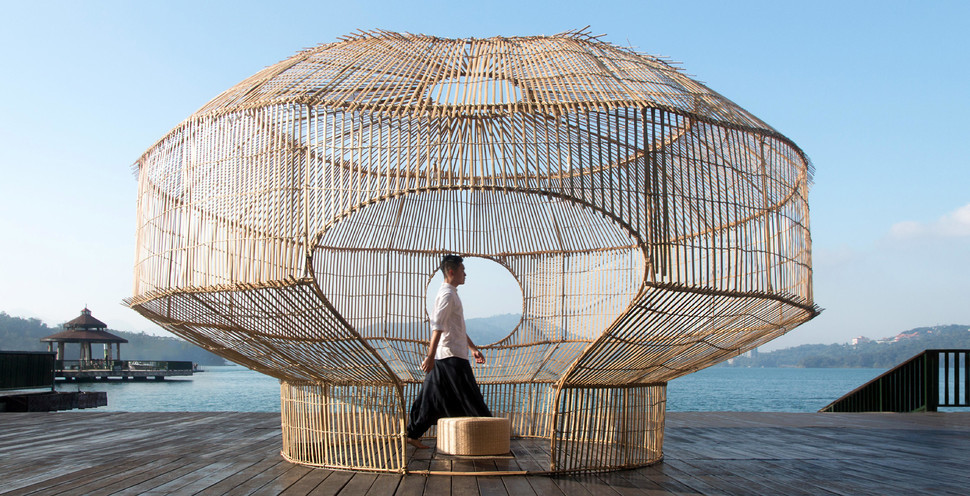 Caption
This large sized fish trap is a new commission by Design Society. It embodies the craft wisdom of traditional fishing tools. Feng learned the making technique from an elder of the Taiwanese Thao Tribe. He researched and collected fishing traps from various tribes, exploring the reasoning behind different models. The type of material, prey and environment determine the traps' varying shapes and sizes. The designer used this traditional wisdom to determine a new shape, to catch the visitors of Design Society | Sea World Culture and Art Center.
Artist
Cheng Tsung Feng is a young Taiwanese designer with an old soul. He is fascinated by old crafts and traditional objects, especially bamboo items. He explores these as conveyers of past wisdom and preserves their values by designing new work from their tradition.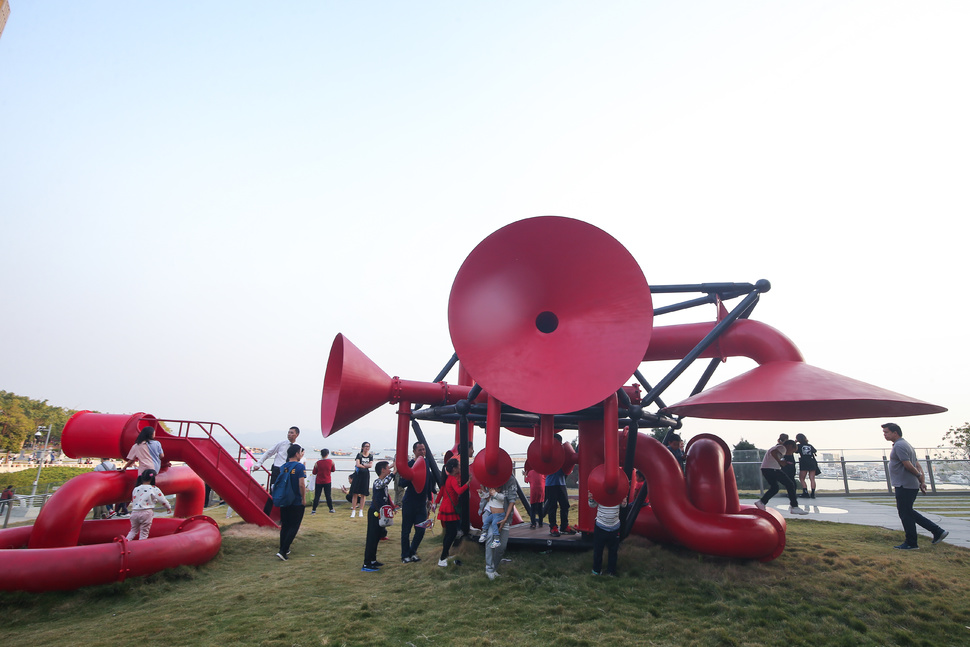 Caption
"Social Network Factory" is a large-scale outdoor installation where visitors and community can playfully interact with each other, consists of twisting large-diameter tubes, located inside of a triangulated steel structure. The installation encourages direct physical engagement: visitors can climb through it, rest on it, slide down it, augment sounds through it, and look through its periscopes to see the city and environment beyond.
This structure investigates how a newly developed urban setting can foster a sense of belonging and social connection. PAO has used a pragmatic design solution to promote an urban vision that emphasizes community and social interaction, encouraging participation in order to transform public space into community space.
Artist
People's Architecture Office (PAO) is expert in creating innovative, trans-disciplinary and challenging design. PAO is a young, award winning architecture practice based in Beijing, and consists of a multi-disciplinary team of architects, engineers, product designers and urbanists. With the belief that design is for the masses the studio focuses on social impact through design.

The Sea World Culture and Arts Center
The Sea World Culture and Arts Center is the first building by Maki and Associates in China. Designed in 2011, every aspect of the building was crafted to reflect its function as a premiere public institution to make a connection between public and art.