Founding Director of Design Society and Honorary Director of the Sea World Culture & Arts Center, Shenzhen, Ole Bouman will officially retire as per December 31, 2020. Design Society, a project developed in collaboration with the Victoria and Albert Museum (V&A), was led by Bouman since January 2015.
From January 2015 to December 2020, Ole Bouman has been with Design Society and the Sea World Culture & Arts Center for six years.
We would like to review his experience with Design Society and the Sea World Culture & Arts Center, and express our sincere thanks to him.
Every oak must be an acorn ......
Ole Bouman witnessed the process of this place from scratch to a cultural landmark.
On the occasion of the second anniversary, Ole Bouman said: "After preparation comes operation. But these only pre-empt another stage: to develop mechanism for enduring relevance to the city of Shenzhen, the Chinese culture of innovation, the international creative dialogue between China and the world. We need to position Design Society as an important driver in this midterm ambition while keeping the daily inspiration and enjoyment in culture on the level it has reached. Or even beyond."
The contact with foreign countries.
About the retirement, Ole Bouman said:" To found Design Society, a creative platform and museum operating the Fumihiko Maki designed Sea World Culture & Arts Center, to recruit its staff and to develop with it the versatile, international program until the present day, has been an unforgettable adventure and honor. To see it mature and taking up a central role in the cultural infrastructure in South East Asia, has been a fascinating process. I'm glad that my engagement can move to a next stage, focusing on specific projects that may further contextualize Design Society as a global design institution."
On behalf of the company, Shang Gang, general manager of the China Merchants Shekou, thanks Ole Bouman for his contributions to the Sea World Culture & Arts Center and Design Society.
Design Society held a warm and grand Retirement ceremony at the Sea World Culture & Arts Center for Ole Bouman.
We believe and wish that Ole Bouman will continue to exert power on the international stage in the future, and will have a broader and more continuous communication with Design Society.
A succession procedure has been started.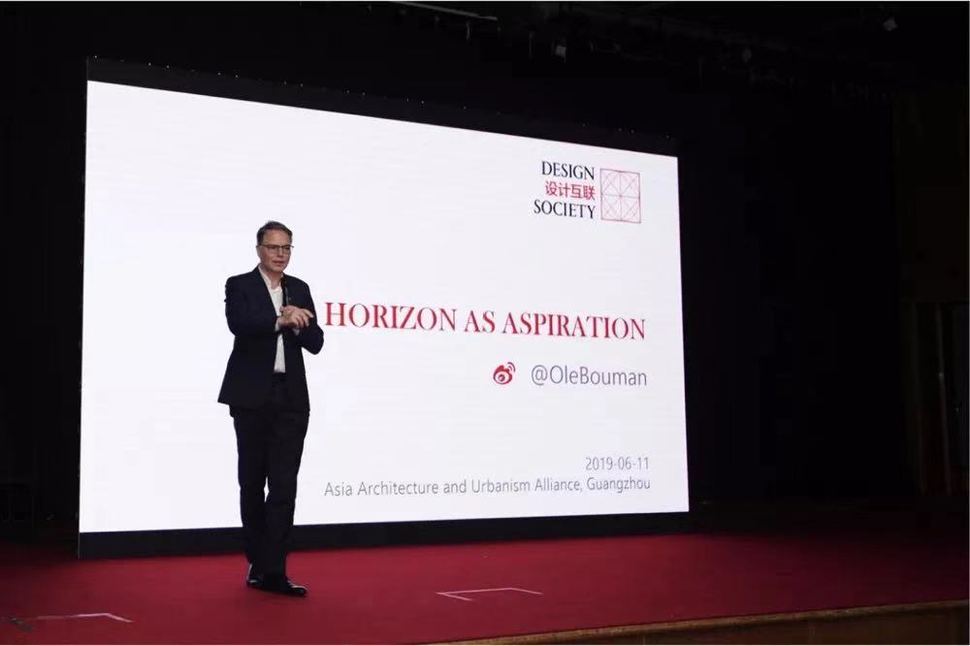 Ole Bouman
Ole Bouman, former Creative Director of the Urbanism/Architecture Bi-City Biennale Shenzhen (UABB 2013-14), was appointed Founding Director of the culture hub Design Society in Shenzhen (2015), to benefit from his multiple experiences in creative leadership. It opened in December 2017. Past roles include editor-in-chief of Volume (2005-2007, a magazine he co-founded with OMA and Columbia University) and director of the national Netherlands Architecture Institute (NAI) (2006-2013). He worked as a curator for Manifesta 3 (2000), and the architecture Biennales of Shenzhen, São Paulo and Venice. His publications include The Invisible in Architecture (co-author, 1994), Ubiquitous China (2006), Architecture of Consequence (2009) and Design Society: the Making of a New Creative Platform (co-editor, 2017) . Among others, Bouman taught architecture and design at the Massachusetts Institute of Technology and the University of Hong Kong. He received the Shenzhen Creative Influencer Award of 2018.