Our dynamic logo mark represents our spirit best: Design Society is a platform, where design is connected to the public and various industries in the most inclusive manner, and where culture and enterprise mutually inspire. As we aim to become an institution which enjoys discovering, experimenting and contributing to the future of Chinese creativity and beyond, Design Society is a place to connect and to spark new collaborations between design and people, institutions, industry, commerce, and daily life.
The most obvious 'synergizer' will be the Makidesigned building itself, strongly rooted in a philosophy of designing encounters as the essence of the architecture. Its collection of galleries, shops, workspaces and restaurants, as well as its generous public space, will provide the eco-system in which mutuality will thrive and where visitors may transform from visitor, to consumer, to participant, to maker and creator.
Design Society, as a creative industry platform, is already building up an extensive national and international network of partners, contributors and supporters, and its continued development lies at the core of Design Society's vision and ambition.
Design Society connected early on with figures in the fields of design and architecture, government, academia and education, as well as entrepreneurs and companies. Dialogues with major museums, residence programs, archives, professional associations, companies and schools are well underway, some of them already materialized by signed agreements. This helps to establish Design Society as a platform that crosses creative practices, society, and industry, and gives Design Society access to inside knowledge and expert advice, while fueling its public program.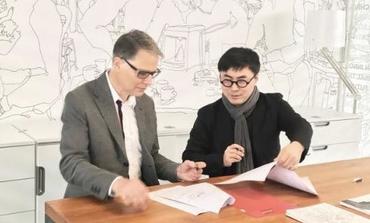 With strong and relevant connections at the local level, embedded in the wider national program, and resonant with an international scene that is increasingly looking to China as the next big global player in design and innovation, Design Society's network will be a truly innovative resource for many.
Design Society will further facilitate network building by setting up an extensive membership program, the benefits of which will go beyond the usual museum membership, giving participants access to industry opportunities, think tanks, b2b activities and career acceleration programs.
A place where design happens
Design Society's Residency program aims to not just create, but to create with society in mind. Our program presents spaces for designers, artists, performers and researchers to create within the building itself, while our collection-based and temporary exhibitions, as well as our many events and programs, will inspire and stimulate our residents to create and refine their practice. The program is also a unique opportunity for visitors to come into contact with the actual creative process and a unique opportunity for creative professionals to engage with audiences. The residency also functions as a matchmaker, where design professionals are connected with others, to create designs always greater than the sum of their parts.
In 2017, Design Society hosted its first 'maker in residence' as part of the British Council's 'Hello Shenzhen' maker exchange. UK-based designer and engineer Ross Atkin was invited to engage students with problem-solving tasks through making. At the end of the project the students worked with Atkin to showcase their work and deliver a crafty robot workshop for forty children and parents at Wan Xia Community Centre in Shekou.
Design Society is not just an institution, but a growing inclusive network of members and participants
We are also positioned to play a role in supporting the vibrant Shenzhen and Pearl River Delta design eco-system that permeates the lives of millions. We represent a broad network of creatives and will give the floor to multiple voices, providing opportunities to present their achievements and points of view. To galvanize these efforts to create and connect, we offer an innovative membership program, allowing people not only to enjoy and benefit from Design Society, but to belong to it as well.
Take a piece of Design Society home with you
The Museum Shop
Design Society's museum shop is more than just a shop. Presenting a curated shopping experience, it is an opportunity to come into direct contact with elements from the exhibitions and public programs, designer brands and products as well as Design Society and V&A merchandising.
The Design Society museum shop is also a platform for the design community to connect with our visitors, and for visitors to come into contact with international designer brands and products, as well as up-and-coming designers from China.
Collaborative pop-up stores and a study lab provide opportunities to connect with local design initiatives and learn more about a featured item's background, creating not just a dynamic consumer experience, but a journey of discovery.
Retail at Design Society
Design Society features shops, restaurants and café's where commerce and creation are brought together in a hybrid program, presenting the full eco-system of design. It presents a landscape of variety, showing the fullest breadth of creativity. It gives consumers an opportunity to explore and participate, showing that design is not only about the eye, but also about smell, touch, taste and sound. Combined with the cultural program, we offer a platform to show, discuss, test and prove how design can make a better society. At the moment of opening Design Society is happy to present its first partners, including Haishang Gallery, HAMIN REMIX, Xiaoyan School of art, Chunmanyuan Resturant, Art Education Center of the National Ballet of China, The Purple, etc. We are open to proposals to complement our opening offering.