| | |
| --- | --- |
| 1F | Main Gallery / V&A Gallery / Park View Gallery / VIP Room / Design Society Store / Haishang Gallery / HAMIN REMIX / Ligne Roset / Ritz Design |
| 2F | Xiaoyan School of Art / Shenzhen UCCN Center / Public Event Space / Education Studio |
| 3F | Chunmanyuan / Mountain View Theater / Art Education Center of the National Ballet of China |
| 4F | Chunmanyuan / Horizon Hall / The Purople / Mountain View Theater |
Gallery Spaces
Design Society has two main galleries for largescale temporary exhibitions: the V&A Gallery and the Main Gallery. The ground floor also features the Park View Gallery with large windows to the park outside. All gallery spaces have been designed and fitted to the highest quality to accommodate many different exhibition possibilities. A minimal number of columns allows for maximum use of the exhibition space and free exhibition planning.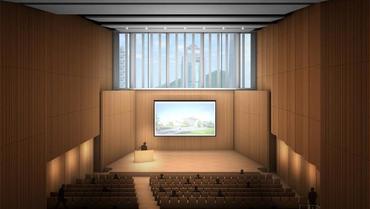 Mountain View Theater
A 328-seat auditorium marks the crown of the Culture Plaza. With views overlooking Nanshan mountain, a third-floor foyer opening up into a terrace, and a fourth-floor foyer overlooking the roof garden, the theatre will be a place to host lectures and performances.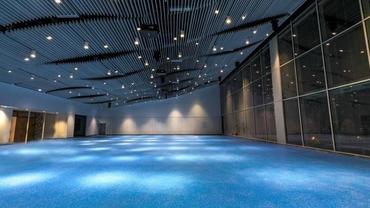 Horizon Hall
The Horizon Hall is a large 800-square-meter space with views over Shenzhen Bay and Hong Kong. Made for hosting presentations and events, it is equipped with screens, hanging points and lighting tracks for flexible use. The blue resin floor and a ceiling composed of curved wave-like structures refer to the sea visible through the wall-to-wall windows.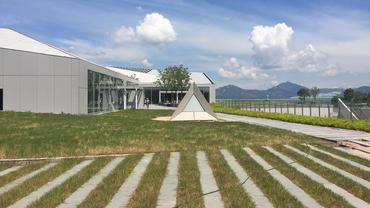 Park
The park around the building was also designed by Maki and Associates in collaboration with Studio on site. Tilted plateaus of different types of plants and grass are crossed by pathways extending towards the different urban axes. The park merges into the Nüwa coastal park, featuring the iconic Nüwa statue and the coastal boulevard. Fully opened in summer 2017, the boulevard connects the building with Shenzhen Bay Park, which follows the coastline of the bay.